Post by Stanenberg on Oct 21, 2016 19:11:46 GMT 1
Hey fellow blitzkrieg mappers,
as most of you may have realized, i wasnt too interested in Mapping or BK in general during the last few months. Recently however, i have regained interest in Blitzkrieg as well as in Mapping for the Game. Special thanks to
Joseph_Porta
for motivating me with his amazing screenshots,
bb
for dropping my name here an there and
Denis
for motivating me to map!
Enough off-topic...lets start. Seeing the Fall Weiß maps i started wondering why they look so good, so i went and analysed some parts of them.
What i found out really improved my mapping. I wish i would have found it earlier (my previous maps look so dumb now:-/ ). I thought why not share some mapping tricks, on how to make maps look better with the less experienced mappers in this community.
This is
not
a beginner mapping tutorial on how to use the mapping editor. Its more like an advanced tutorial to improve the look of a map. Maybe i can help some people whose maps look sometimes pretty...lets say weird

.
Lets start by what i learned from the Fall Weiß maps. (credit to joseph_porta)
1st: Create something like a backyard. It adds a lot of depth to your village and doesnt make it look so roadbound.
2nd: Place the House close to the street with the entrance close to the door. No sane person would like to go through his garden before he enters the house. In the backyard you now have space to design a garden.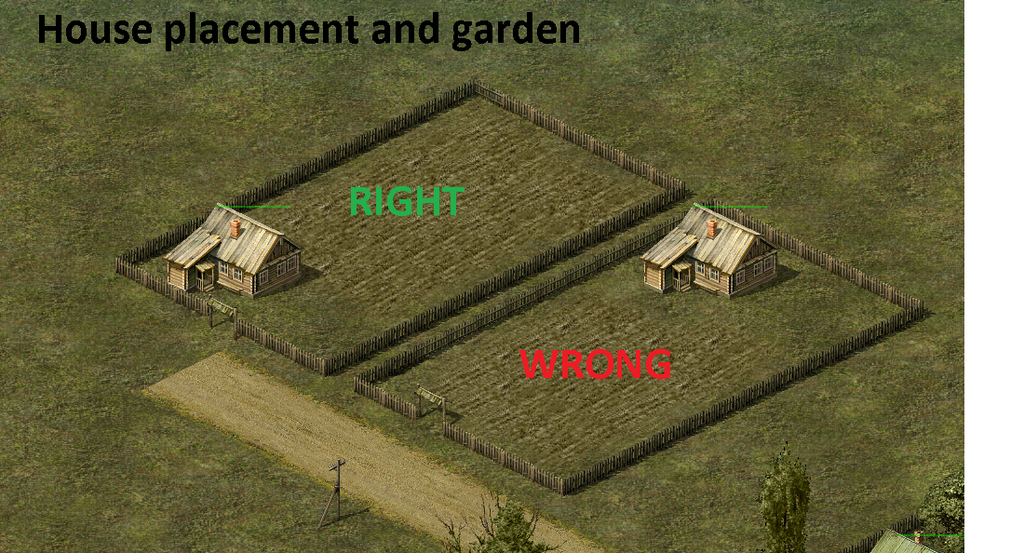 3rd: Use objects that make sense. Think about what a farmer/villager in eastern europe would have in his garden and what he wouldnt. Try to avoid weird things. Placing a shed is always a good way to fill space and make the village look more detailed. Unfortunately i am mapping with kursk, which offers only limited garden objects. Especially the objects added by the Stalingrad addon improve the detailing of a garden.
4th: Add flora! This is maybe the most important one and a mapping trick in general. If something doesnt look detailed, place more flora. You shouldnt place less than 1 tree and 2 bushes for each house/garden you map. Place more trees around your village, flora take up a lot of space and makes the entire place look tight and detailed, so try to cover up emtpy space with flora.
As you can see in the final result, our "wrong" house doesnt look that bad compared to "right" house (which is actually the left
), but the left house just has a much more realistic and more detailed look.
Tell me if you want more, or if you think its useless. If you have your own advanced tricks, feel free to post them below.
Stanenberg
PS: the person who can spot the two example houses on the map when it is done gets a cookie